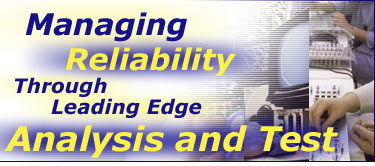 Why Systems Effectiveness Associates?
Our highly qualified technical staff can provide you with a fast, cost effective program to fulfill all of your product reliability management needs through a honed insight into real world product performance.
The SEA Advantage
SEA, the reliability engineering experts, provides engineers and managers with the expertise to effectively manage product reliability while insuring system effectiveness. Our priorities are to increase customer satisfaction through increased product reliability, provide an early assessment of the risk of warranty cost and product returns, design programs which best meet customer availability requirements, and putting our knowledge of sparing and service strategies to work in order to curb service costs.
Are Reliability and System Effectiveness at the forefront of your Company's #1 Concerns? We Can Help!
With our fast, cost effective reliability analysis and test services, SEA can help you meet your reliability goals and enhance your system's performance.
Ensure reliability (MTBF) and system availability analysis that will satisfy Bellcore/Telcordia, FDA and Military Standards
Provide the technical experience required to introduce HALT/HASS into your product development cycle
Establish product support strategies designed to improve your product reliability within your marketplace
Create a reliability testing program using accelerated methods to predict the reliability and service life of your product
Implement software reliability test and analysis programs